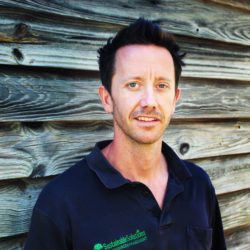 James R. Remuzzi is the president and founder of Sustainable Solutions, LLC a natural resource management company based in Shepherdstown, WV. Sustainable Solutions provides natural resource management services to private landowners, forestry associations, conservation buyers, non profits, NGO's, investors, and State and Federal agencies to help generate ecologic and economic returns from their land.
James grew up on a 76 acre farm in Clarks Gap, Virginia that raised grass fed beef and timber. He has degrees in Forest Technology and Environmental Science from the University of New Hampshire. Prior to founding Sustainable Solutions, his experience was based largely in the private sector, where he worked as a member of the planning team for the Chesapeake Forests Project, and as a field forester responsible for inventorying, monitoring, and prescribed fire on over 60,000 acres of forestland on Maryland and Virginia's Eastern Shore. While on the Shore, James was a member of the management team that underwent a successful dual SFI/FSC forest certification audit of 25,000 acres of the Chesapeake Forest project lands.
James is an expert in ecosystem service markets and was the architect and lead developer of the www.baybank.org and www.landserver.com. He was also a member of the development team for the www.texascoastalexchange.com. He has presented on Ecosystem Services and their markets at over 100 conferences on ecosystems services across the United States, and is a guest lecturer at University of Maryland and New York University.
James' current work includes supporting the development of functioning ecosystem markets,
and leading the Sustainable Solutions, LLC team to provide native tree planting, invasive plant control, forestry mowing, hazardous fuel reduction, and prescribed fire planning and implementation for Private, State, Federal, and Non Profit clients across the East coast.
James has extensive training and certification through the National Wildfire Coordinating Group (NWCG), and is a certified burn boss in Maryland and Virginia. He has served as a Burn Boss on over 500 acres of prescribed fire in a variety of fuel types. James is a member of the International Association for Wildland Fire, the Nature Conservancy, and the Association for Fire Ecology.
In 2007, James was selected as a Kinship Conservation Fellow and is currently serving on the Kinship advisory board.
James is an avid outdoorsman who enjoys hiking, biking, climbing, and paddling. In 2000, he was a member of a self guided team that summited Denali (Mt McKinley, AK) via the Washburn route.