A Cool Tool to Map Your Property!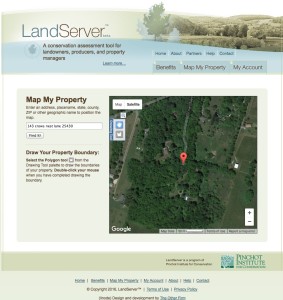 Sustainable Solutions has partnered with the Pinochot Institute for Conservation to create a user-friendly way for landowners to launch their own assessment project. Using a tool called LandServer, co-developed by Sustainable Solutions, you can easily map your land, start to inventory your resources, and even determine if your property matches with available ecosystem services projects.
Current ecosystem service markets that we service include Carbon, Biodiversity, and Forest & Wetland Mitigation. Carbon includes projects for improved forest management, afforestation, reforestation and REDD (Reduced Emissions from Deforestation and forest Degradation). Biodiversity projects include both voluntary and regulatory habitat markets. Forest and Wetland Mitigation encompass the design, development and monitoring of mitigation banks.

Click here to leave this site and access the FREE LandServer Assessment tool
Click here to learn more about the great work of the Pinochet Institute for Conservation
Search This Site
What We Do